CAT WORMERS by DRONTAL WORMERS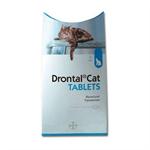 DRONTAL PLUS CAT WORMING TABLET (SINGLE)
Drontal cat will tackle every type of intestinal worm your cat is ever likely to get, and both will do so with a single dose, and without having to starve your cat first.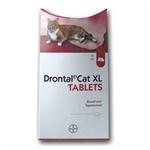 DRONTAL XL CAT WORMING TABLET (SINGLE)
Drontal cat tablets are for the treatment of gastrointestinal roundworms and tapeworms of cats over 4kg. The XL Tablets are specially formulated for cats between 4 - 6kg, so that a large cat can be treated with a single dose.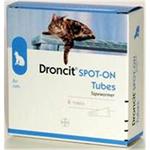 DRONCIT SPOT ON WORMING DROPS FOR CATS 4X0.5ML
Droncit Spot-On combines a high level of efficacy against tapeworms of cats with the convenience of a "Spot-On" formulation. Administer 1 tube per 2.5kg bodyweight.