DODSON & HORRELL HEALTH MASH 15KGS
DODSON & HORRELL HEALTH MASH 15KGS
Dodson & Horrell's Health Mash brings with it a low starch, super fibre, molasses-free recipe containing a multitude of support supplements.
This quick soaking mash is ready in under ten minutes, is non-heating, and is suitable for all horses and ponies, including those prone to gastric ulcers. With a formulation built on the success of Winter Health Mash, Health Mash will be available year-round and continue to tempt even the fussiest of horses and ponies in all disciplines.
A new product retaining Winter Health Mash's most loved features
Non Heating
Molasses Free
Oat-Grain free recipe
Blend of Herbs
Blend of Super Fibres
Soak time of less than 10 minutes
What's New?
Bigger 15kg bag
Lower starch content - suitable for horses with ulcers
Increased protein quality
4 x more ActiSaf Yeast Probiotic - hindgut support
MOS, FOS (prebiotics) & Psyllium - additional digestive support
Increased herb inclusion - supporting immune health and palatability
Increased Biotin - supports hoof health
Available all year round
1 level Stubbs Scoop approximately contains: 1kg/2.2lbs
Health Mash should be weighed before soaking. For every 100g of Health Mash, add 200-250ml of water and soak for 10 minutes before feeding. Feed 100-200g/100kg bodyweight per day in conjunction with free access to forage. Do not exceed 300g/100kg bodyweight per day in total. Ensure a minimum intake of 2kg/100kg bodyweight of forage per day/. Fresh drinking water must be available at all times.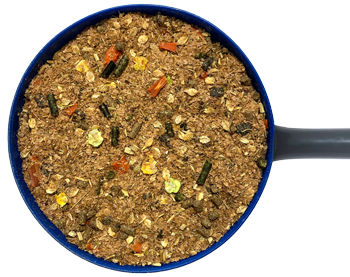 Composition
Wheat Bran, barley, Unmolassed Sugar Beet, Alfalfa, Mint (5.0%), Oatfeed, Wheatfeed, Rapeseed Oil, maize, Peas, Echinacea (2.0%), Distillers Wheat Grains, Sunflower Seed Meal,
Vegetable Oil, Dried Carrot, Fennel (1.0%), Soya Bean Meal (dehulled GM), Calcium Carbonate, Linseed, Mannan Oligosaccharides, sodium Chloride, Monocalcium Phosphate, Psyllium Seed (0.12%), Fructose Oligosaccharides, Cinnamon (0.1%), Glucosamine, Chaste Tree Berries, Magnesium Oxide, Comfrey, Dandelion leaves, Fenugreek, Mixture of Blackburrant, Pomegranate, Rosemary, Rosehip, Spinach, Beetroot (0.01%), Burdock Root, Nettle leaves, Celery Seed, Olive extract.